Confession: I'm a YouTube salker.
That's right. I just really love stalking YouTube channels and watching their videos over, and over, and over, and over, and over... well, you get the idea.
So I present to you, my top five YouTube Channels in absolutely no particular order. Obviously there are more but I'm just doing five. Okay, here goes.
Silfimur
This guy is piano playing goals. Mostly he covers film soundtracks, and they always sound amazing. He's the only person I've discovered thus far to adequately cover any Two Steps from Hell songs, AND he provides Synthesia tutorials which are my preferred method of learning piano.
I mean you simply
must
hear his cover of London Calling and the Star Trek Main Theme because reasons:
DUHorsemanship
My riding instructor uses Clinton Anderson's methods, and recently a friend of mine started watching his videos. So
obviously
I had to look him up. I'd gotten one of his books from the library, but I generally prefer videos to books for learning. And may I say his channel is probably the best horse channel out there. At least that I've found.
Very informative and fun to watch, really great if you work with horses. Or want to work with horses.
EventionTV
Evention is by far informative, as well as highly entertaining. They know how to have fun and teach at the same time.
Not to mention that they are hardcore.
I really love their videos, they cover good topics, and are very clear. Their videos are amazing quality, which is something you rarely see in other horse channels. I highly recommend them if you love horses, want to learn, but also want to laugh too.
Rogue ZoHu Productions

Okay maybe I'm biased since these are my friends, buuuut this is seriously one of my all time favorite channels. Their videos are perfection, and they just keeps getting better. Not to mention the Home Grown Filmmaker Vlogs, which are very informative.

My particular interest in filmmaking is choreographing fights. And actually fighting in said fights. So I'm particularly fond of any videos covering fight films. But the rest are all amazing, and it's really cool to see what's put into these films. Because a lot goes into them.


Studio C
And last, but most definitely not least, is Studio C! For the longest time I had a friend recommending them, but I always forgot by the time I got home. Then one day I heard laughter upstairs, and discovered that my sister had started watching their videos.
Their comedy is GOLD.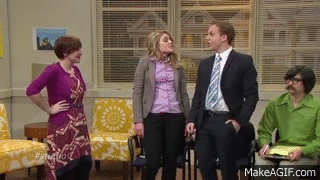 Literally me when I interact with strangers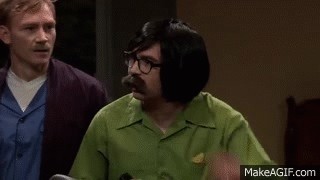 I will never get over this dramatic reveal
"DEER!"
I could go on with the gifs. But quite frankly that would go on until I had gifs of every episode. Which would be very long.
All I can say is, Studio C will forever be my favorite comedy show. Like seriously every video is perfection I don't know how they do it.
That wraps up my top five YouTubers! What are your favorite YouTube channels? Tell me below in the comments. I'm always looking for good recommendations.
Stay classy my friends.